I was talking to a friend about options for an outfit she's planning and decided I'd take the opportunity to collect a bunch of examples of different steampunk skirt styles in one place.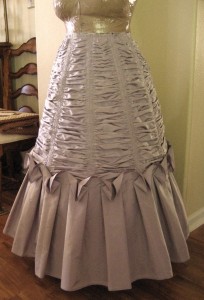 From Historical Sewing.com
This is an elaborately ruched skirt, for those with lots of fabric and time. I love the effect, though.
Long skirt with one large ruffle. I like this look because it can be dressed down or up and is relatively simple to make. This image from the
Simplicity 2207 pattern
.
Long Skirt with pleated ruffle. This is obviously the
2172 skirt
. Another nice option, although you'll spend a long time making all those knife pleats.
Then there's just the plain, full skirt. This one has some nice buttons on it. The plain skirt is often seen under a bustled overskirt or over a hoop skirt.
Then there's the multi-tiered ruffle skirt. Another incredibly versitile wardrobe piece, this photo shows how you can use one ruffled skirt pulled up in the back as a bustle. Of course you can also pull it up in the front, which is always popular.
Then there are all the varieties of bustled skirts. This one is different, in that it is a slim bustled skirt. I really need to make it... Here's an example of
a fuller bustled underskirt.
Here's a petticoat skirt. Useful either as underwear to give you volume, or as your actual skirt.
A Lolita style high-waisted short skirt, with or without bustle. There's a million different styles of these and steampunk lolita is a growing sub-style.
One of my favorite skirt styles for Steampunk is the fishtail skirt. Here's a lovely one with ruffles. There are many variations, but I think they always look lovely, and I don't see them often enough in person. There's a DIY Tutorial for one,
here.
Here's some more shorter skirts, not as short as a lolita skirt. This Simplicity pattern includes one style held up with hardware and one with a ruffled bustle in the back. Other styles include can can skirts such as I wear with my patch corset.
And there is the bustled overskirt, which can be worn either over another skirt or on it's own.
Did I miss any steampunk skirt styles? Obviously there are infinite variations, but I think these cover most of the basic options.