Sometimes I come across a bunch of neat items that I want to share, but don't fit in neat categories. I've got several of these links sitting around, so it's time to share them.
I was really excited when I first saw
this dress from Modcloth.
It's pretty much my idea of the perfect summer steampunk dress. It has just the right amount of lace (not too much) and looks like it would be perfect for a casual, comfortable event.
This is the first time I've seen
a short crinoline cage
for sale. It's from
Hips and Curves Halloween costume line
, so I'm not sure it's heavy-duty, but would be a good option for someone who doesn't want to mess with making their own.
Not all steampunk watches have to be pocket watches. If you prefer a fashionable wrist watch, may I suggest the
Stud-y Group watch
from Modcloth?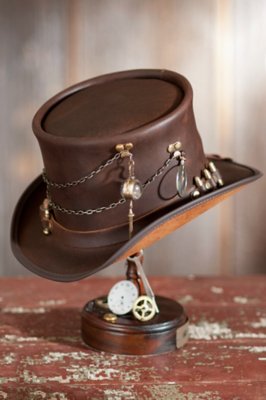 Finally I stumbled into these amazing steampunk leather hats by Overland. This one is the
Steampunk Trinket Leather Top Hat with Ammo Hatband
and comes with all the cool tools you see here. They seem to be high quality, US made hats, so check them out.
Some of their other hats are below.
Does anyone out there have etsy products or other wares they'd like to see promoted here? Drop me an email and links to your stuff and if I like it, I'll share it in future Friday Finds.