So I was going to compile some inspirational photos of good steampunk outfits for hot weather. And I have....a LOT of them. So there's going to be a couple posts of these this week, to go with my "Wow It's Hot" theme. (It was 104 here today. *sigh*)
Unknown source
I love the bottom half of her outfit. Ok, I love the whole thing, but the bottom half is a good summer option. Take a bustle overskirt and put some short bloomers on underneath.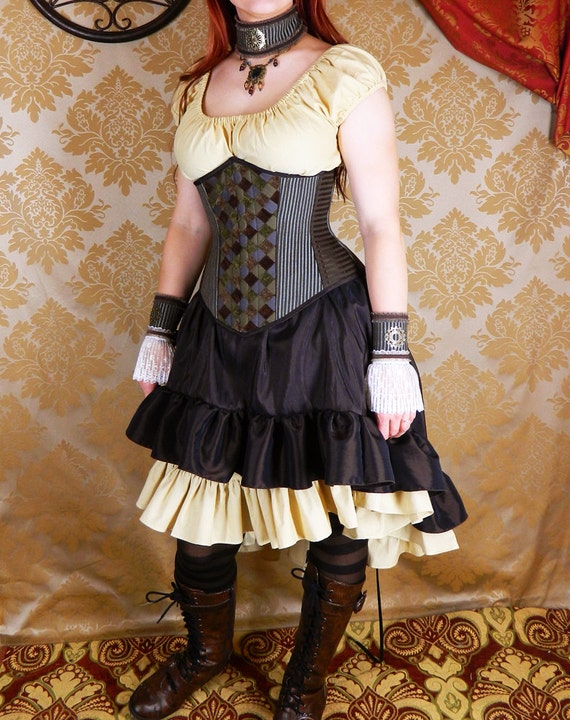 For sale by Venefica Corsetry
This
Full Victorian Steampunk Ensemble
is for sale on Etsy, and I fell in love with it when I saw it. It's also a great summer outfit, with the short sleeved chemise and the short skirts.
Unknown Source


This outfit is a little diesel punk and a little modern, but it still manages to say steampunk as well, with the awesome cincher and the spats. Here's proof that a tank top can be steampunk. Of course, in this weather I'd skip the long knitted gloves, but you get the idea.
To prove that all types of outfits can be summer friendly, here's a lady with a camoflage Civil War era dress. Hoop skirts are a good hot-weather option, actually, since they allow for a lot of airflow under your clothes. Plus she's wearing cotton, short sleeves, a pith helmet, and has a parasol, all hot weather Do's.
Clothing by Scoundrelle's Keep
A sleeveless camisole, underbust corset, and full kickers make this a fantastic practical option to survive the heat.
Both these adventurers are sporting some nice gear. He's got short sleeves, while she looks comfy in an overbust corset with straps and what looks like very thin pants.
Marc C. Photography
Outfit by Nolanne Dulet
This
Steampunk Botanist
is ready for the outdoors with loose, flowing pieces that allow the air to get next to her skin. Plus great use of color!
More to come! If you have an appropriate outfit, please share it! And if you know the makers or photographers on the unsourced photos, please let me know so I can credit.