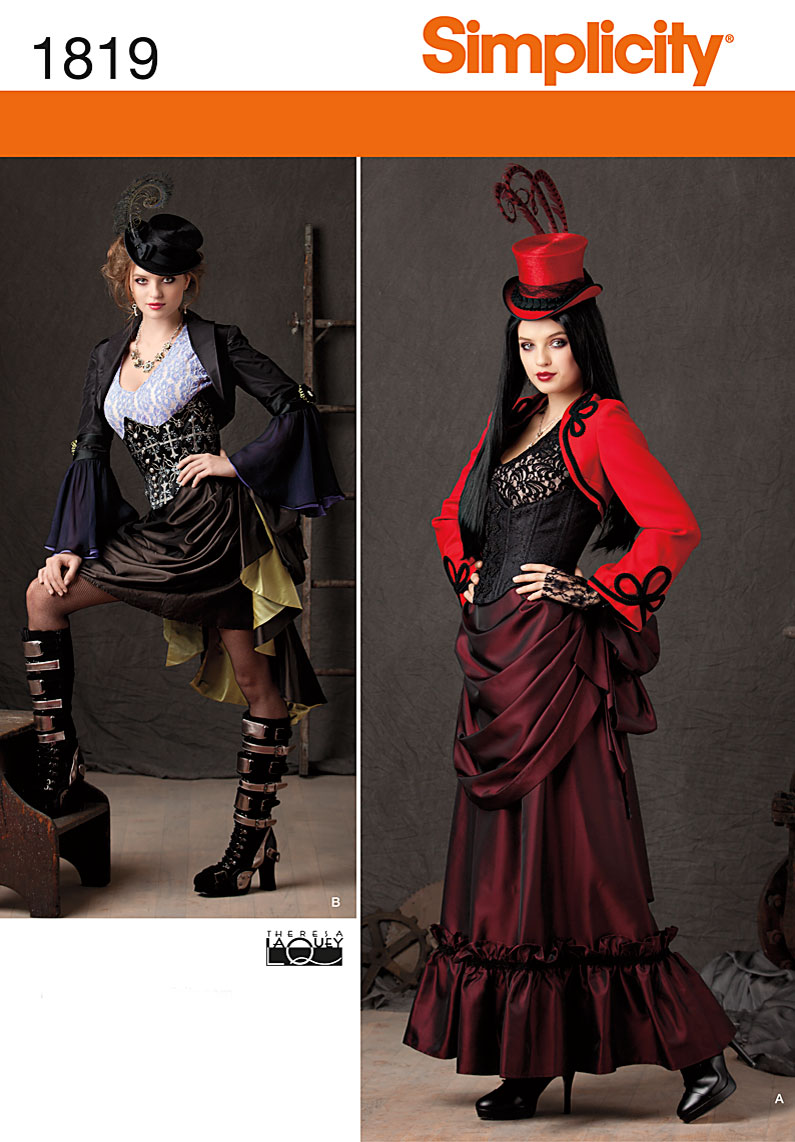 First of all, there's a really exciting new pattern from Simplicity. It's
a new steampunk pattern!
It's really an attractive outfit with some nice pieces. The bolero jacket is really lovely, in both its variations. If I hadn't already made a bolero, I'd probably use this pattern to make one. The overskirt is also really nice, thought I'm not sure how the bustling is done in the back. But the apron has a great look to it. I'm also really intrigued by the underbust "bustier" pattern. Now, their pattern is probably all weird sized to be a real corset, but I would use it to make a real corset, and it looks like it could be a very attractive underbust. So, in short, I'm dying to get my hands on this pattern.
There also
a new Simplicity Civil War dress pattern.
Normally I ignore the Civil War/Early Victorian patterns, but they are kinda growing on me. Besides this one has a really nice bodice that could work really nicely with a steampunk outfit.
There are a few Vogue patterns that are new-ish but I thought I'd point out as possibly being useful for steampunk.
Corset Top and Skirt
- The closed front corset is attractive, and I really like the slimmer skirt. These are modern formal wear, but could easily be steampunked.
Interesting skirt and capris
Another interesting skirt and capris
Completely insane skirt
-I know, that example is HIDEOUS. But if you look at the line art, I think the skirt has huge potential to be cool.
And I happen to be looking through a bunch of pattern sites right now, and I'm going to be posting the really good steampunk-ish patterns I find, regardless of their release.
Folkwear :
This site has a lot of patterns for traditional dress from all parts of the world, so it's a good place to look if you want to make a non-Western steampunk outfit. There are some nice Near and far Eastern patterns. I have never made one of their patterns, so I can't speak to how well written they are.
Belgian Military Chef's Jacket
- This is an awesome jacket that has a really nice dieselpunk military feel. For men or women.
Victorian Shirt
- Although this looks like a nice shirt, I recommend the
Laughing Moon Victorian shirt pattern,
because it has lots of variations to cover informal, formal, and a long range of time period.
Missouri River Boatman's Shirt
- Same situation as above.
Gibson Girl Blouse
- This, on the other hand, is a very nice Edwardian blouse that I haven't seen a similar pattern for before.
Vintage Vests
- This is a nice pattern for period vests, for men or women. I like the double breasted one, especially.
Edwardian Bridal Gown
- This is a nice Edwardian or Very Late Victorian dress.
Big Sky Riding Skirt-
-A split leg pant with folding panel to make it look like a skirt from the front. Good for Westernpunk.
Vintage Bathing Costume
- What it says on the tin.
Countryside Frock Coat
- Men's and Women's frock coats
There's another neat site I found full of
FREE downloadable patterns.
Because there are no thumbnails and the descriptions don't really tell you much about the pattern, I have done the hard work and gone through ALL the patterns and picked out the good ones. (Ok, the women's patterns. I lost my will somewhere at the beginning of the men's patterns. Guys, I'm sorry.)
Corset Top
- Could possibly be made into a real corset with some work
Another Corset Top
Simple Ruffle-Front Blouse
Blouse with Chiffon Sleeves
- I love the shape of this blouse. It looks like a corset and bolero.
Fitted Vest
Women's Tailcoat
Long Jacket/Coat with ruffled edge
Double-breasted jacket with short puffed sleeves
Safari Jacket
Jacket with lots of pockets
Lacy dress with long sleeve
Skirt with flared inserts
Skirt with flounce
- This is a weird skirt, but might work for an overskirt?
Diagonal skirt
- Another different one, with potential.
Curved Seam Slinky Skirt
- I REALLY like this skirt. Would be great for dieselpunk.
Skirt with zip-up gusset
- I probably would leave out the zipper, but this would be a nice skirt for a mechanic or similar character.
Wrap Skirt with Buttons and Back Lacing
Long Skirt with Diagonal Seams
Men - As I said, I stalled on going through the men's patterns, but I did find one
Military Jacket
. Most of the men's patterns seem pretty boring and standard, but if you're looking for patterns for classic wardrobe pieces, go to town.
If there are any patterns of note in the Butterick/McCall/Vogue summer catalog, I'll edit this post to include them when they are released.