In response to someone's question elsewhere, I decided to go ahead and put together a list of steampunk sewing patterns from the major pattern companies. This isn't an exhaustive list, but it's a place to start.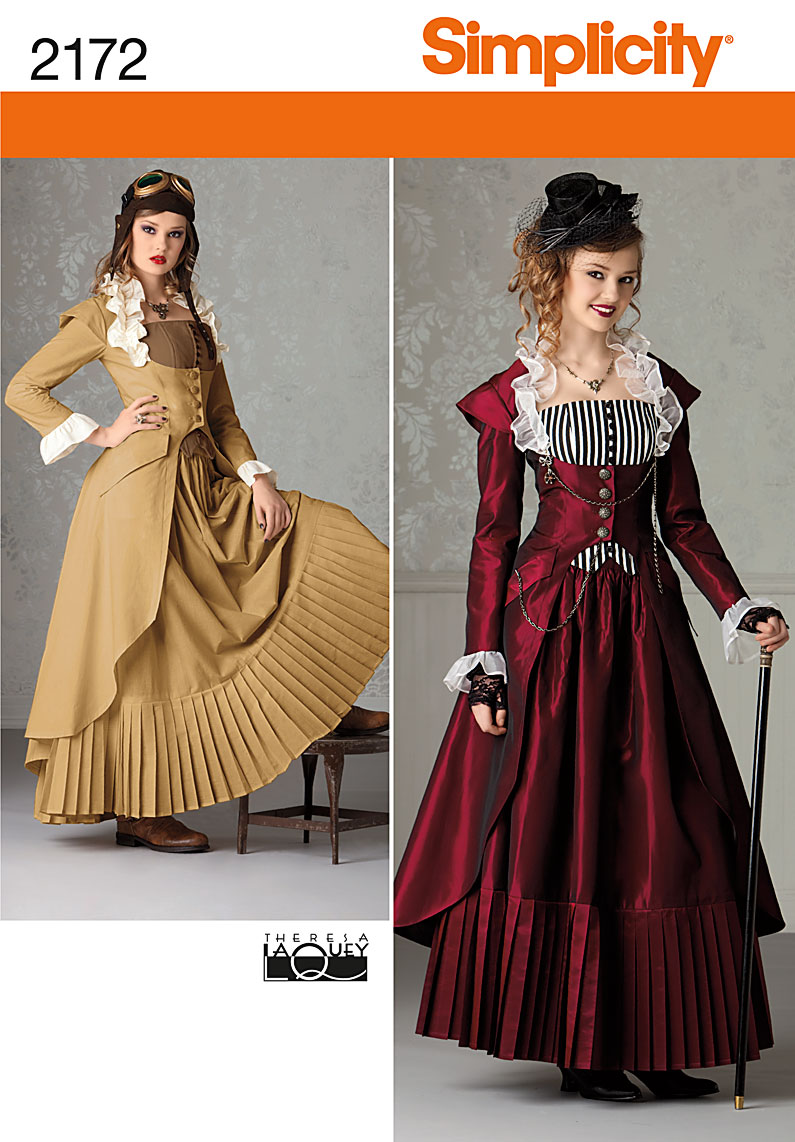 Simplicity:
This is
a good men's pattern.
It's got a good vest, shirt, and frock coat. I
made the vest from this pattern.
Here
is a pattern for a Western saloon girl, and some more burlesque looking outfits, which can be a popular steampunk look.
This
has a men's and women's driving coats and his and hers hats.
Simplicity has two steampunk dress patterns that are nice:
here
and
here
.
Burda
Burda has this nice Victorian dress.
I've just finished this pattern and will be posting about it soon.
They also have a complete men's outfit
here.
Butterick
Butterick has
this brand new pattern for a Victorian evening gown.
There's also
this jacket and skirt combo.
They have two Victorian jacket patterns
here
and
here.
I've made the first one, pictured
in this post.
Butterick also has a lot of accessories like hats, gloves, and headpieces so it's worth it to look around their historical patterns.
McCall's
McCall's has this
Civil War uniform, which could easily be made more generic for a military steampunk look.
This gown
is called Victorian, but it's a little weird to me. Feels more Rennaisance, but the bustle is nice. I used the detachable bustle from this pattern
to make my black bustle.
New Look
The above patterns are all from the costume section of the pattern catalogs, but there's a lot of other patterns out there that can work for steampunk. I mention some of them in
my last post
about this season's new patterns.
But
this women's blouse
is pure Victorian, except for the short sleeves (which is a plus in my book.) It's in my "Must Make Soon" pile.
There's also
Truly Victorian
, which has a whole site of awesome patterns, mostly women's clothing. I highly recommend both their patterns and their customer service.
As for fabrics, I tend to go for home decor fabrics first as they are heavy and luxurious and have more antique patterns. They can also be really expensive, so it's worth it to look for sales, coupons, and remnants. All of my husband's vests have been made from home decor fabric from the remnant bin. I also really like brocade. My newest love is cotton sateen, because it's cheap, but still gives you the look of semi-shiny nice fabric.
Coming soon on this blog: Hopefully my thoughts on San Japan and other recent local steampunk events, gun modding, budget steampunk tips, and more on my current projects, including a complete Victorian bustle dress and a new corset.